having a lot of fun watching the air traffic.  i loaded dump1090 onto a debian machine, plugged in an RTL-SDR usb dongle, a hacked coax 1/4 wave vertical, and bam, we got all sorts of fun info about the planes flying over.  here's the raw dump from dump1090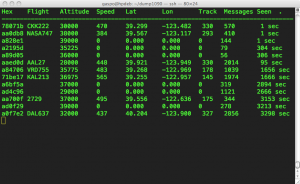 then, using mono to run VirtualRadar, can see from other machines browser live updating with tracks, and net lookups of the tail numbers.  i can only "see" about 10-30 miles out, so very lucky to be looking at it just the right time…..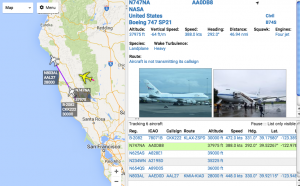 …..and then along comes SOFIA, the NASA flying telescope.  Yes, they open a door on the side, the back section is de-pressurized, so to have a clear view of the heavens.  the Ultimate Convertible, no?
and a double check against the pro's,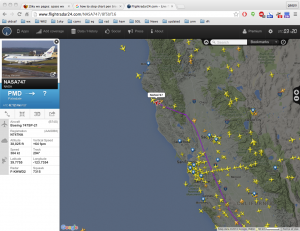 so, who read all the way down here, and want's to hear about the CHP Ghost C-130 flying circles over Folsom Lake?