so these are called Warner electric brakes, designed by the guy who designed magnetic speedometers standard in pre-computer automobiles.  clever design, but i think the standard modern setup is in the plans.
here's the hub off, friction pads inside the hub, and magnetic coil is the ring around the spindle.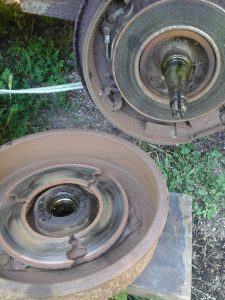 closer look at the hub pads,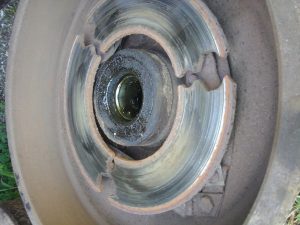 i assume it works like: give coil juice, it gets torqued by pulling these pads to it and then the doughnut is forced to turn a little bit.  that turn then pushes on the pad ring to engage the hub.  heres a closeup of the tab that sticks out of the coil ring where it can push on the ring on either side (forward or backward same power).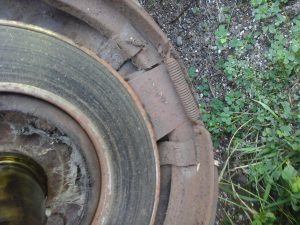 so yeah, i'm back to the wordpress blog thing, which copies automatic to fbook.