i post these in the hopes someone having similar problems will find these notes and will help them in some small way get their gear on the air again.
i was all excited about repairing the backlights on my new-to-me Kenwood TM-733 so put it on the air, and things looked good.  then i turned on the CTCSS aka PL Tone and the transmitted audio got all garbled and bad distorted.  Looking thru the schematic i find the same type of precision resistor pack i just re-flowed to fix a TS-570 is the heart of the PL tone generation circuit.  sure enough, re-flowing the CP401 resistor pack and clean PL tones are output again.  the r-pack is between the orange xtal and the large CPU.  contacts are more on the side than on the bottom, 25 years of heat cycling and the ceramic moves not same as pcb.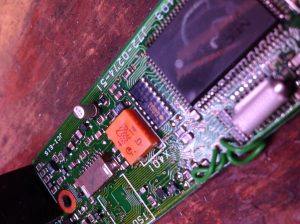 so that fixed the distorted PL tones enough to hit the local repeater.  good friends tell you the truth, so back on the bench after Ken gracefully told me "sounds like crap".  checking power output and meter doesnt move at any power setting.  hmm, its obviously modulating and PL is clean enough to hit the local repeater?  check on google about the final amplifier chip turns out, its not a chip, its a module.  wut? i thought these things where epoxied inside?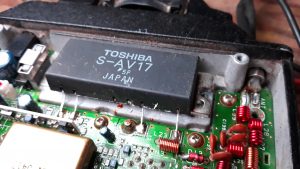 nope, module, and the plastic cover pops right off to expose the main drive transistor, its pre-drive transistor, and a simple amplifier power chokes and feeds.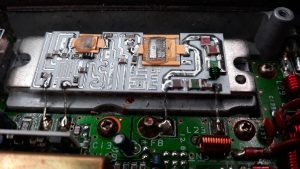 can you see the hairline crack in the choke line just off the tip of the probe?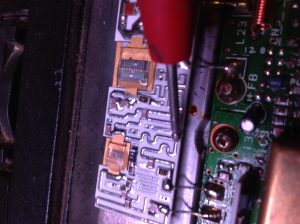 no? neither can i.  but the meter can see it probing from either side no contact.  right in the middle of the bottom curvy trace (which would make a fun racetrack if i where an electron thus the inductance)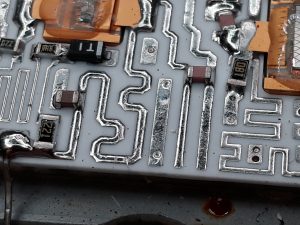 so some sloppy solder dragging and we have contact again.  i say sloppy cuz the ceramic substrate ate the heat as i applied it and the solder kinda stayed right at the eutectic point.  nope, no pic, im bareassed.   but that fixed it, full 50w output and sounds clean so far.   gonna have to get a proper service monitor or gen/spectrum unit all these radio projects….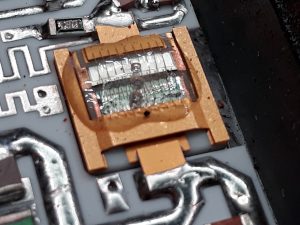 heres a closer look at the 60 watt drive transistor.  looks like an epoxy blob with a metal wire screen over perhaps a dozen small dies wired in parallel?